Historical Seditions is pleased to release two new zines. Each is available in two formats: a PDF imposed for letter-sized printing and one for digital reading.
In Search of Freedom and Self Determination: A Tour Through the Anarchist Movements in Graz, Austria, 1918–1938 contains a translation of a 2018 article by historian Reinhard Müller. Graz was a major node of anarchism in Central Europe during the interwar years. The city was home to several anarchist cultural and mutual aid organizations, and the central hub of a network of underground vasectomy clinics. With the rise of fascism Graz anarchists continued their struggle through secret affinity groups. Graz's most famous anarchist writer, Rudolf Großmann aka Pierre Ramus, is relatively well-known in German-speaking anarchist circles, but the lively history of the Graz anarchist movements remains a niche subject this zine hopefully sheds light on.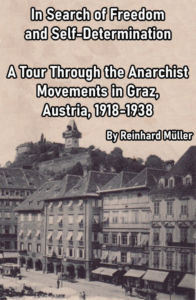 Download In Search of Freedom: Letter-imposed printing | Digital Reading
We Don't Forget! 2017 Inauguration Day Reflections from the Salish Sea compiles reportbacks and communiques from Seattle and Olympia related to protests surrounding the inauguration of Donald Trump. As hundreds of protesters were being arrested in Washington, D.C., intense protests against rising fascism broke out throughout the rest of the so-called United States. Seattle's University of Washington was a particularly heated site of confrontation, as alt-right provocateur Milo Yiannopoulos was scheduled to speak that day. While Milo's event was significantly disrupted, one antifascist attempting to deescalate a fight was shot by a Trump supporter who would ultimately be acquitted at trial. The events of that day are detailed in this zine, along with parallel protests in Olympia and a followup action memorializing the anniversary of the shooting.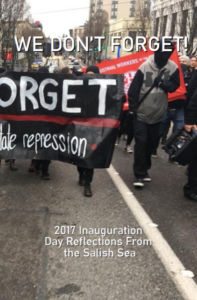 Download We Don't Forget: Letter-imposed printing | Digital Reading